Via jonnie rae

He stabilized the markets, so 401Ks are starting to slowly come back and we are not about to meltdown anymore. Unemployment numbers are coming down dramatically from when he took over.

GDP went from 6.5 shrinkage to 1 shrinkage since he has been in office.

Tens of thousands of state employees still have jobs, and services are maintained because of his stimulus.

He ended torture. He IS closing Gitmo.

95% of Americans are receiving a tax DECREASE.

He provided unemployment, food stamps and a 65% reduction in Cobra for those who lost their jobs.

He set new emissions standards.

He protected wilderness land set for oil leases.

He got Pakistan to agree to fight the Taliban, which Bush never could. The top leader was taken out this week.

He nominated and got confirmed the first latina Supreme Court Justice in history.

He signed Equal Pay for Equal Work, Children's Health Bill and Credit Card Reform.

He has a first time home owner's credit, a modification of mortgage plan in place. (This needs work, but it is in place)

He has made it easier for students to get college loans. (UMass just gave a 1500 rebate to all students because of the stimulus money.)

He has improved America's image around the world, especially with Muslim countries.

He got the 2 NK journalists out.

He got the non-proliferation treaties going again, and he will chair the next meeting. Already an agreement exists to reduce Russia's and US's arms.

A significant amount of the bailout money is being paid back. This is a good thing.

He has taken on healthcare, the most difficult thing to pass in the US. I am not completely happy with how he is doing it, but he is doing it.*

He ended the abstinence only thing. And the law that said a pharmacist could refuse to give birth control pills to women if they so chose.

He is sticking to the timetable to withdraw troops from Iraq.

He got funding for the useless bomber cut. And those helicopters. He plans to make more weapons' cuts.

He has cut 2 trillion from the budget over the next ten years.

He has taken on energy, the second most difficult thing to pass in the US and it has already passed the House.

He saved the American auto industry. (Cash for clunkers is doing great too, both for the industry and jobs, and for the environment.)

He is building a green economy for the US. First steps in the stimulus, others in the energy bill.

More jobs will be created in transportation when rest of stimulus kicks in in 2010.

He is facing complete disrespect and vilification from the media and the wingnuts, getting more than 30 death threats per day, and still goes on, calmly and with determination and intelligence.

He has no champions in the Senate, only a small group of obstructionists who seem to have been given all the power by Harry Reid. The insurance industry has convinced people that he is Hitler; and this is only the beginning. If Pharma gets into it, what do you think will happen to healthcare? They have way more money than the insurance companies. You want him to fight all the corporate interests which actually OWN this country, including the Senate and Congress, and you want him to do that virtually alone? The left has attacked him almost from day one. The right is throwing the kitchen sink right now.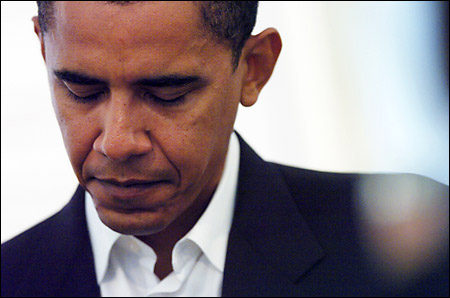 I think you have to decide whether he has done enough good in his first seven months to still support him.
I think, overwhelmingly, yes.